Maritech Systems AS has been delivering software, traceability and compliance solutions for the seafood industry since its inception in 1975. As today's seafood production and distribution companies strive to compete in a consolidating sector, having the right software solutions in place is critical for managing new business models and
processes.
About the Company:
As part of their ongoing commitment to grow a geographical presence alongside of their customers and the industry
itself, Maritech's innovative seafood software is sold around the world by Maritech, with offices in Oslo, Molde, Averøy, Harstad and Tromsø, Halifax, and Seattle. Maritech has additionally added functionality for IOT and automation systems, that is now an integral part of the cloud portfolio, Maritech DigitalSeafood™. Maritech Digital Seafood™ is comprised of a number of industry specific tools such as Analytics, Trading, Claims, Document Service, Quality, Journals etc.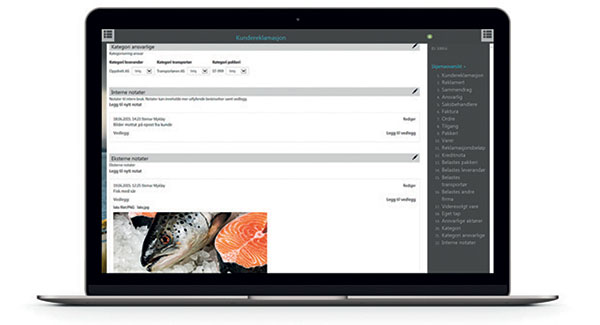 Maritech's software solutions:
Maritech's software solutions supports and improves the daily procurement and sales processes with connected
order, warehouse management and inventory optimization, sell through and direct store delivery, rapid sales and
wholesale business. Their industry solutions provide the marketing, logistics, and financials capabilities that seafood
operations need in order to offer customers and suppliers value-added services such as loyalty management, multiple currency, multiple languages, labeling and central billing of invoices. Processing functions tailored for seafood production include yield profit contribution calculation anddual units of measure capabilities to capture both catchweight and base weight units for variable weight products so critical to seafood operations Maritech software solutions combine HACCP-compliant quality with the food distributor's responsibility to be able to
track, trace, and recall specific batches whilst constantly monitoring expiry dates on perishable products. In addition, companies gain comprehensive costing and profitability analytics and forecasting capabilities to help improve operational excellence across the entire supply chain.
Seafood Industry Expertise:
Maritech's customers range in size from single unit facilities to large multi-national corporations who manage multiple, vertically integrated operations spanning diverse locations and markets. With seafood industry expertise developed over the course of forty years, the company's distinctive international framework puts Maritech in an unparalleled position to meet the global challenges that characterize the intricate seafood and aquaculture sector.